Overview
Set up a profile picture
Activate open tasks notifications
Activate absence and select a substitute when you are out of the office
Select region and language
Change password
View data privacy policy
Edit cookie settings
To make the desired changes, click on your name in the menu bar at the top right of the screen and then select the item "Personal Settings".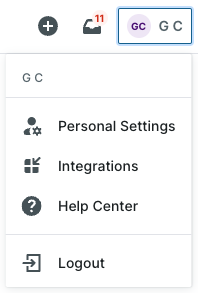 Profile
In the Profile section, you can upload a profile picture to personalise Alasco. To do this, click on the circle with your initials or "Upload New Photo" to the right.

Notifications
In Alasco, you will be notified of outstanding tasks via the small number on the task mailbox and in the "Tasks in progress" field on the dashboard.
In addition, to be reminded of your tasks, even when you are not logged into Alasco, you can activate daily e-mail notifications using the switch button. You can set when the e-mail notifications are sent.

Absence
If you are absent for a certain period, you can activate this absence in your personal settings. If you have activated the setting, you will bear the status "Out of office", and you can select a substitute from all other users in Alasco to take over your existing and newly assigned tasks during this period.
Do not forget to deactivate the absence setting when you are back on duty.
Note:
The substitute settings always refer to the currently selected account. If you work in several Alasco accounts, please define your absence and respective substitute in each account.
Please note that a user currently acting as a substitute cannot activate their own absence setting.
Region and languages
Alasco can be used in either English or German, and you can adjust the time zone to your region.

Password
You can change your password at any time. Click on the button "Change password" and enter your old password in the next step to be able to assign a new password. You will find detailed instructions on how to change your password in our Help Centre article.
Data privacy policy
You can also view the current version of your data privacy policy and edit your personal cookie settings.