Overview
Add new users to Alasco
Assign permissions to employees at the account level and in projects based on account and project roles
Send, resend and revoke user invitation
Add new users
The users of an account are managed within the master data in Alasco. As an admin, you can add and edit users and send invitations.
The following data is required for the creation of new users:
First name
Last name
E-mail address
This data is required to allocate any changes and activities carried out in Alasco to a specific person.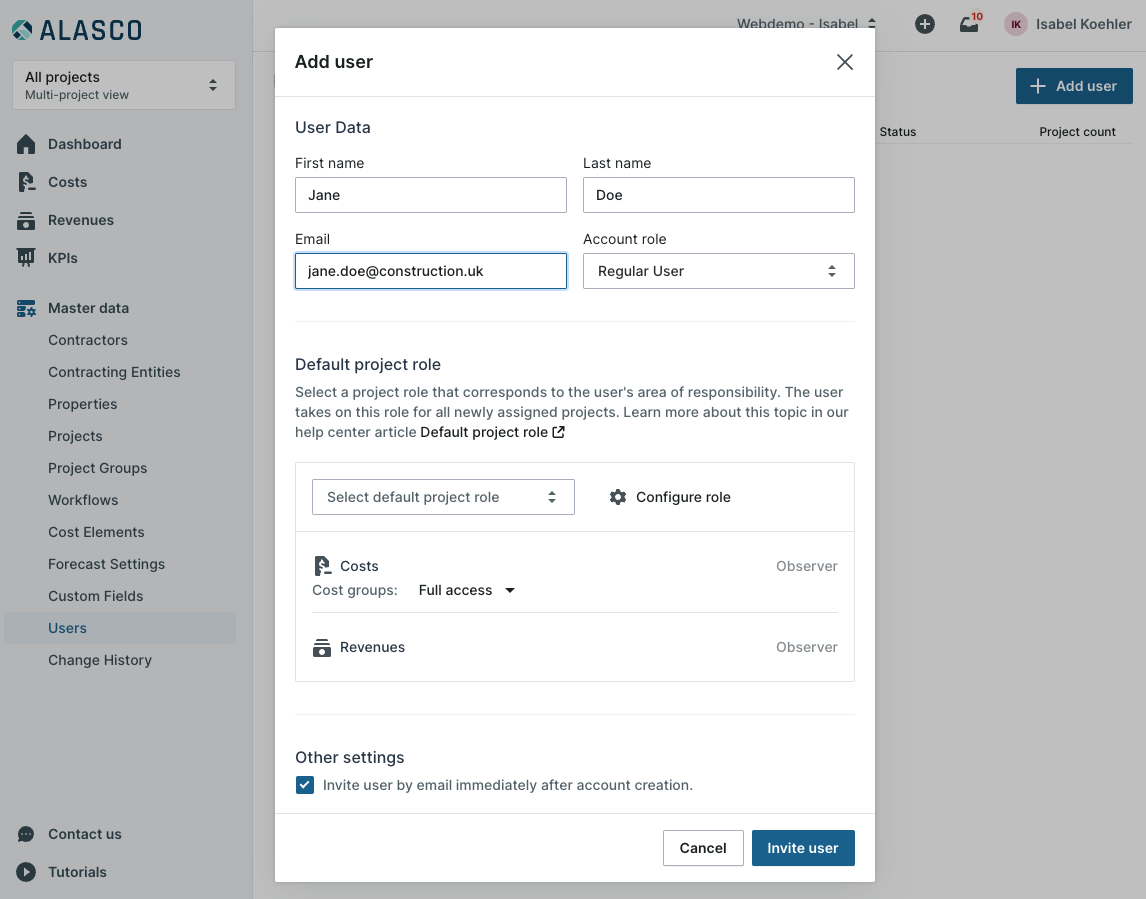 Account and default project roles
When setting up users, you can assign one of the three following account roles: admin, regular user, and external user.
Default costs and/or revenues project roles must also be assigned, these determine the initial read and write rights for all projects they are assigned to.
Under the default "Costs" project role, the default full or restricted access to certain cost groups is defined. You can find more information on this in the Help Centre article User rights: restricted access.
If "Revenues" are enabled, you can define separate costs and revenues default project roles by clicking "Configure role".
If the default project role of a user does not apply to all projects, you can adjust the project role for each project at any time. In principle, both account roles and project roles can be adjusted at any point by selecting a user in the master data and editing the user or modifying individual project roles.
Note:
Our article "Rights and Roles" provides an overview of all available combinations of account and project roles and their respective rights.
Send, resend and revoke invitations
If users should be invited to Alasco immediately after they are added to the account, leave the function "Invite user by email immediately after account creation" checked. If you disable this function, the users will not have access to Alasco initially, and you will have to invite them later.
If you have already sent an invitation, but the new user has not signed up with Alasco yet, you can resend or revoke the invitation by clicking on the three dots on the right-hand side.